Introducing the ArcheMedX Intelligent Learning Platform
Personalize content. Engage learners. Generate actionable insights.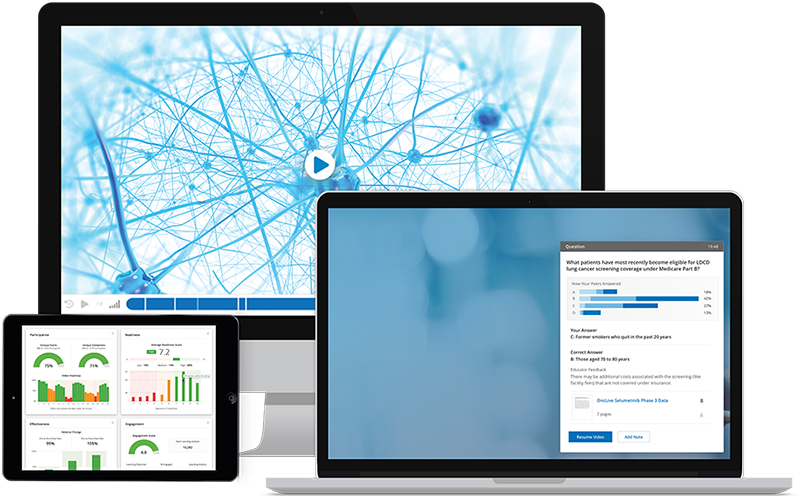 PLATFORM FEATURES AND BENEFITS
PERSONALIZED EXPERIENCE
System intelligence maps content and assesses learner engagement in real-time to dynamically create individually tailored experiences
ACTIONABLE INSIGHTS
Real-time analysis and reporting of participation, engagement, effectiveness, and readiness data; including behavioral profiles of each learner
ACTIVE LEARNING
Learners are driven to reflect and take actions; i.e., responding to "nudges", viewing resources, answering questions, taking notes, setting reminders, re-engaging with key concepts, etc.
REVIEW MODE
By analyzing learner engagement and performance, the platform creates personalized recommendations that nudge learners to refocus and revisit the most relevant content
CONTINUOUS ENGAGEMENT
Automatically deliver "bite-sized" learning moments interleaved with a learner's own reminders over time to fight the forgetting curve and support behavior change
CURRICULAR EXPERIENCE
Supports an immersive curricular experience that aggregates all of a learner's relevant content in a single, easy to navigate learning hub
ACCESSIBLE CONTENT
Transforms any video, audio, image, and PDF/text based assets into learning experiences accessible across desktop, tablet, and mobile devices
SEAMLESS INTEGRATION
Easily integrate (i.e., via SAML and xAPI ) with learning and quality management systems to enhance existing software investments
Experience ArcheMedX For Yourself
See how the ArcheMedX Intelligent Learning Platform can transform your organization's learning and insights