Today's educational community is increasingly thinking beyond one-off episodic education to create richer curricular interventions. These curricula are intended to provide deeper and more-layered learning, ideally engaging learners continuously over time to drive greater increases in knowledge, competence, and retention.
Achieving these goals requires a more structured and well-designed learning experience that drives Learners to engage throughout the Curriculum and consume the full breadth of the intended interventions delivered over the weeks and months that follow.
A Mission to Reinvent the Curricular Experience
To this end we developed ArcheHome, a new curricular solution that extends the pioneering design and evidence of the ArcheViewer and the ArcheMedX Learning Actions Model to create a more effective (and informative) curricular experience for Learners. ArcheHome enables Educators to reinvent curricular education to drive participation, amplify audience generation, increase completion rates, keep Learners more engaged over time, and generate critical data and insights that achieve the outcomes they truly desire.
A New Design for Curricular Education
The Curricular Landing Page within ArcheHome is designed to simplify navigation and increase completion rates by enabling Learners to quickly scan informative and interactive Activity tiles and to easily search and filter the Curriculum to find the best path to optimize learning. In addition, the full set of Related Resources collated for each Activity is made available through a centralized, searchable, and filterable library enabling Learners to more easily engage in and consume critical tools to drive changes in practice.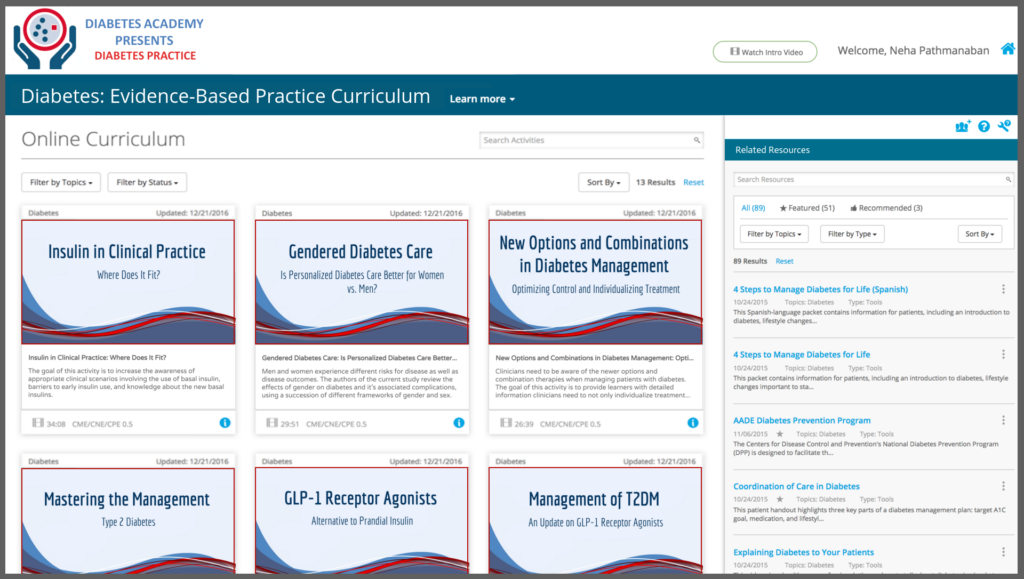 Drive Participation and Completion
Because each Activity and Resource is assigned its own topics and/or tags, ArcheHome can identify opportunities for cross-pollination and "nudge" Learners to participate in and consume additional Resources and Activities throughout the Curriculum. This "recommendation engine" helps to keep Learners more engaged over time and increases the number of Resources and Activities the Learner consumes and completes within a Curriculum.
Generate Critical Data and Insights
As Learners navigate the Curriculum of Activities and browse, search, and review the Resource library, they are revealing their interests, thinking, and learning process. ArcheHome tracks all of these actions, structures these data, generates insights, and presents them to Educators within a real-time data dashboard and predefined reports that are available 24×7 and 365!
Introducing ArcheHome Plus
ArcheHome Plus dramatically extends the impact of the reinvented curricular experience and provides Educators with a unique ability to engage Learners over time by introducing Rich Content Posts and Targeted Notifications. These new tools create a simple, yet powerful way to develop new content above and beyond ArcheViewer-powered Activities and "nudge" specified groups of learners to return to and more fully explore the curricular experience, creating greater stickiness, increased engagement, and volumes of additional data!
More Dynamic, Bite-Sized, Rich Content
Rich Content Posts (RCPs) are short, blog-like posts designed to create a more dynamic stream of multi-media enriched content such as interviews with faculty, late-breaking science, or new practice tools that are delivered to Learners over time, creating a more continuous learning model.
ArcheHome Plus provides Educators the ability to target RCPs to specified groups of Learners, enabling Educators to refine the delivery and visibility of RCPs to match a variety of learning styles and models. Educators can also choose when and how targeted groups of Registered Learners are notified via Automated Notifications (personalized email messages) when new RCPs are published, driving increased engagement and stickiness.
Learners can also set Reminders on each RCP, ensuring that they will revisit critical posts over time (similar to how Reminders work with Notes within the ArcheViewer).
Driving Continuous Engagement and Learning
By utilizing Targeted Notifications, each new RCP not only functions as a brief educational intervention that can be designed for specific groups of Learners but also serves as a more continuous engagement and retention tool pulling Learners back into the learning experience and nudging them to explore additional education and related content.
The addition of a dynamic 'feed' of Rich Content Posts within the ArcheHome Plus Curricular Landing Page also makes it easy for Learners to quickly access, search, and filter these short, blog-like posts. The prominent placement of the RCP Feed within the Curricular Landing Page ensures that Learners will find new and valuable content to explore that drives continued participation, whether it is a learner's first visit or their twentieth.
Learner Features
Search through and filter a Curriculum of learning Activities
Preview Activities and check progress status
Search and filter related Resources in a central Resource Library
Receive automated notifications when new content is published
Invite colleagues to register and participate
Set and receive personalized reminders via email
Search and filter Rich Content Posts in a prominent centralized Rich Content Feed
Measure themselves against other Learners via Curricular-Level, Interactive Polling
Educational Planner Features
Create a searchable curricula of ArcheViewer-powered learning Activities
Customize the look and feel of the curricular experience
Build an indexed and searchable library of related educational content
Track and assess detailed learner activity at the curricular and activity level
Keep the curricular experience fresh and dynamic, supplementing audience generation
Further diversify the educational intervention with short, blog-like posts
Use curricular-level interactive polling to drive learner reflection
Use curricular-level interactive polling to quickly collect needs assessment data