The ArcheViewer, powered by the ArcheMedX Learning Actions ModelSM, is an award winning e-learning software platform that improves learning, competency, and performance in healthcare professionals. The platform enables educators to construct more agile and effective online learning experiences that nudge learners to take action and provides educators with new types of learning data and analytics to efficiently assess and continuously improve their education programs.
Nudging Learners to Reflect and Take Action
The ArcheViewer enables each learner to take a variety of critical actions during the education, such as: taking notes synchronized to the content; searching a resource library populated by the educator (i.e., articles, guidelines, tools, brief videos, etc); setting a personalized series of enduring reminders in accordance with spaced learning theory; and viewing and responding to faculty "nudges" in the form of Educator Notes and Interactive Polls that are scheduled to appear at relevant moments within the content.
Agile, Data-Driven Educational Planning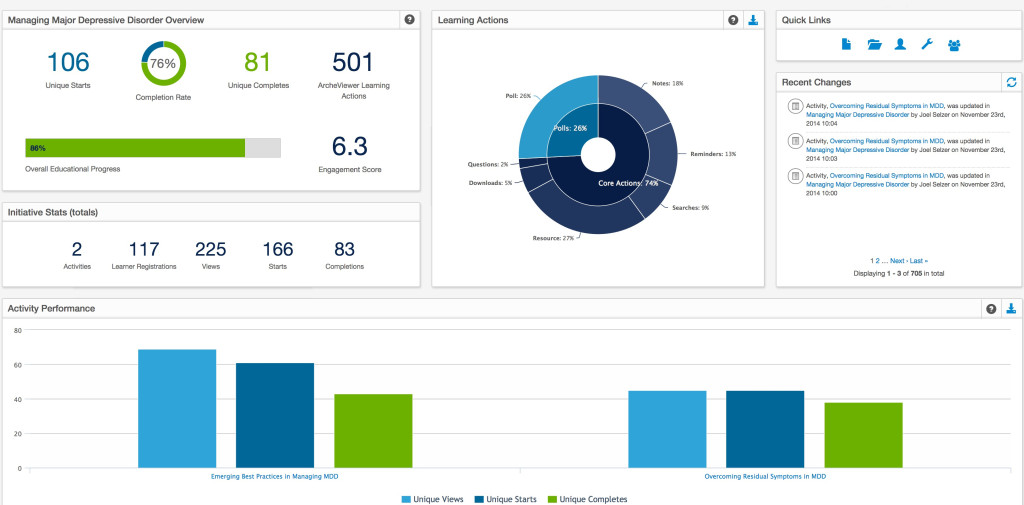 By nudging learners to reflect and take action throughout the learning experience, the actions not only drive learners to absorb critical lessons more efficiently and move newly learned concepts into long-term memory, but the actions also create a transformative set of data. The ArcheViewer administrative interface aggregates these data and enables educators to quickly assess educational impact by analyzing novel engagement scores, assessment data, and detailed learning actions metrics.
Moreover, the administrative interface presents insights back to the educator in real-time through data-centric dashboards and interactive reports. The dashboards, as seen in the sample image below, organize key metrics and simplify analysis across different slices of data at the population and individual learner levels to provide 24/7 access to critical insights that educators can then use to optimize their education and create more robust outcomes reports.
Seamless Integration
The ArcheViewer can be easily integrated with any learning management system (LMS) to create a seamless learning experience, and, when combined with ArcheInsight, educators can also view learning action data alongside pre-test, post-test and evaluation results to more effectively assess how knowledge change is occurring and even more precisely identify where the curriculum and content can be refined.
Learner Features
Take and synchronize notes at any moment during the learning activity
React to specially designed nudges from faculty to drive reflection, learning, and retention
Search a library of related resources selected by faculty and educational planners
Create a personalized learning stream of reminders that connects lessons and activities over time
Educational Planner Features
Create more agile and data-driven education
Engage learners to reflect and take action at prescribed moments
Access learner data through a reporting dashboard that simplifies analysis and sharing
Glean insights from learner data to optimize content
Easily update and refine the learning experience to drive improved learning outcomes