ArcheMedX

is simplifying the way clinicians learn online by collaborating with our educational partners to transform the delivery and real-time assessment of medical education.

Together, we are delighted to highlight a variety of educational programs (Featured Programs – Specialty, Featured Programs – Oncology, and Featured Programs – PCP and Nursing) currently powered by the ArcheViewer.  These highly interactive e-learning activities provide thousands of healthcare professionals across the world a more structured and engaging online learning experience.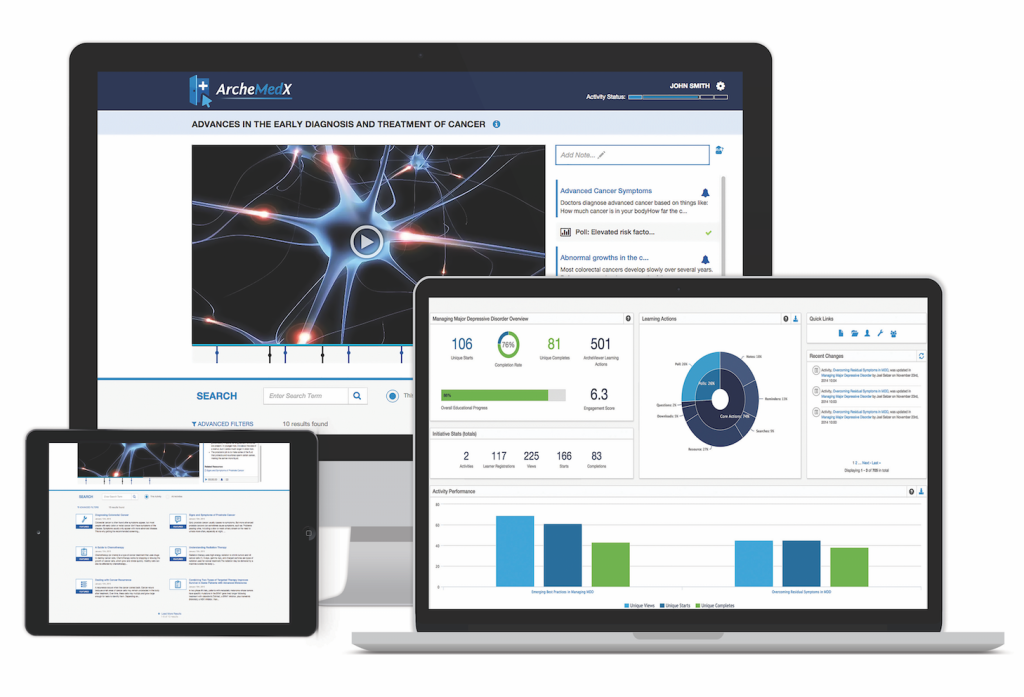 Each program powered by the ArcheViewer leverages the ArcheMedX Learning Actions Model to drive increased retention and recall over time and enables participants to create personal "Learning Streams" by taking, syncing, and archiving notes alongside the activity; searching resources provided by the educational planner (such as journal articles, clinical studies, etc) and automatically creating reminder messages that are delivered for maximum impact and recall through a spaced-based learning reminder system.
Educational planners and faculty can use real-time data provided by ArcheMedX, to immediately evaluate the effectiveness of their education and to nudge individual learners to engage more actively or to focus on their subject matter weaknesses, or more broadly course correct and refine the content of the curriculum such that subsequent learners might benefit from the experience of learners who came before them.
Learners can participate in each web-based activity free of charge after completing the registration process (which may take the learner to an educational partner's website). To learn more about ArcheViewer-powered programs, click on the the individual program image or the "View Details" link found on the Featured Program pages.